Volunteer
Kayak Staten Island is an all volunteer organization.
Become A Volunteer – We need You or Your Organization
On any public paddling event, we need volunteers to sign-in participants and launch boats. We need experienced kayaker volunteers to lend support from the water.
Special Benefits for volunteers include sunset paddling trips!!!!
---
Organizations can volunteer through
Kayak Staten Island's Paddling Partners Program
WE –
have the boats, paddles, life-jackets, insurance, everything necessary for a beautiful Staten Island waterway experience.
YOU –

provide nine volunteers to help in a public event and your group will be rewarded with an exclusive kayak trip.
Your group may choose the date and times of the public event if we have experienced volunteers available on that date to assist your event and guide your trip.
---
Volunteers under 18 years of age must be accompanied by adults.
High winds/lightning cancels event.
INTERESTED in Volunteering?
email us kayakstatenisland@gmail.com
---
Featured Volunteer: Sarah
Because of her generous contributions and help, we recognize Sarah Gowell as this month's Volunteer. Sarah is volunteering at virtually every event and this past month she and Bahaa did even more.  For Kayak Staten Island's spending money, they bought us 200 T-shirts to sell. Not only did they donate the cost of the T-shirts but Sarah carries the shirts home and to the beach and sells them under the canopy for us!
We are so grateful to have this ability to buy, most immediately, more life-jackets. The money will also come in handy for our other expenses such as website, printing, boat and equipment repair. As you all know this program would not happen without its volunteers — and those who demonstrate such generosity as Sarah's really make Kayak Staten Island shine!  Many thanks to Sarah and Bahaa.
Buy your Kayak Staten Island T-shirt and any of our public events. Only $10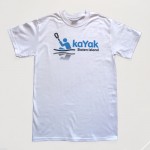 ---