Posted on 29 May 2012 | Comments Off on It's My Park Day
It's My Park Day, May 19th
After Paul Pesce's remarkable reconstruction of interior container #2, container #1 was a mess.  However, over 20 volunteers tackled the cleaning, organizing of both containers and pulled weeds and spread wood chips around the containers which are now ready for the upcoming season.   We also took the opportunity of the gathering to give a very big "thank you" to Loretta and Diane for donating their beautiful hand-crafted boats to Kayak Staten Island.  We are grateful and honored by the gifts.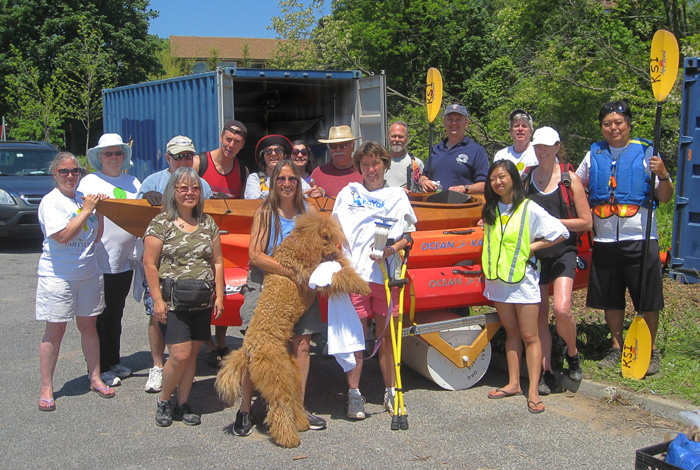 Posted on 29 May 2012 | Comments Off on Much News To Report!
High Rock Challenge Race:
Kayak Staten Island provided the muscle, expertise and labor to conduct the kayaking mystery challenge in Lake Orbach for the the High Rock Challenge race, April 28th. Thirteen KSI volunteers on the land and water; safely monitored 1300 racers complete their kayaking course —another job very well done by KSI!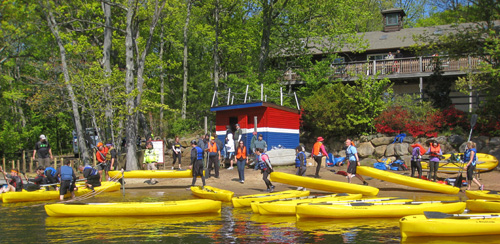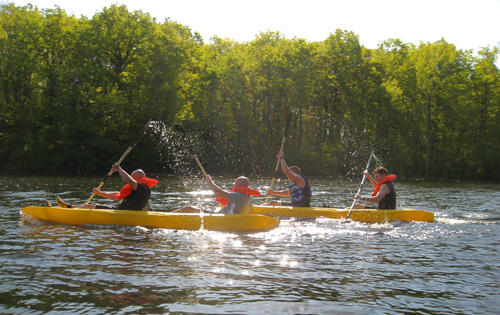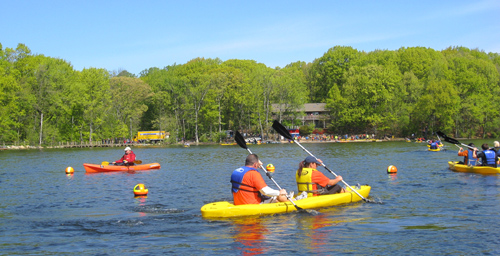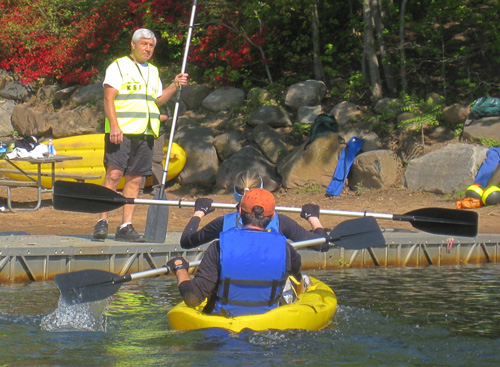 OYSTER GARDENING:
KSI has signed on with NY/NJ Baykeepers Oyster gardening project for another year. Earlier in the year, we rescued a 2 year old cage from Conference House Park waterways which didn't have very many living oysters remaining but they are now living together with our South Beach oysters which are thriving! During the last count May 5, we found many other ocean wildlife living in the oyster cages. Please join us at the next counting/measuring session in June.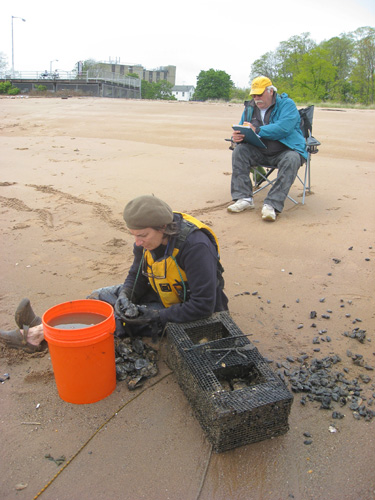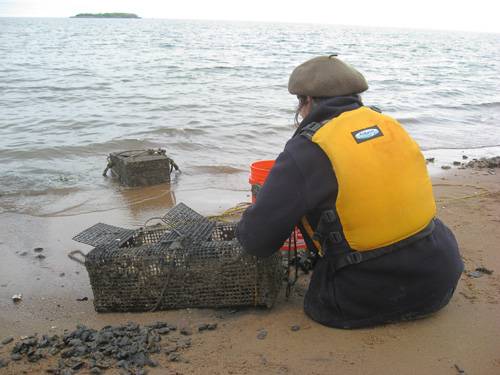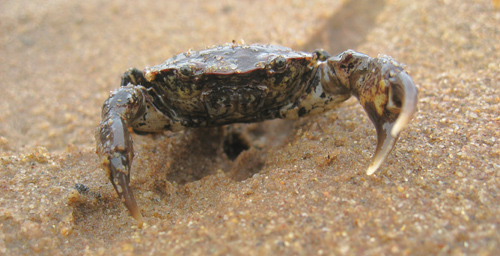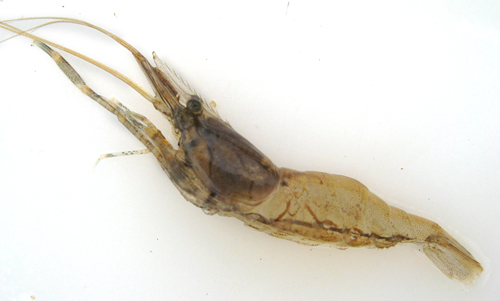 Water Quality Testing:
In addition to kayaking and oyster gardening, KSI volunteers are testing the quality of the water at South Beach. Volunteer Maureen Connolly is in charge of organizing volunteers to take samples of the water, then delivering the samples to the River Project who in turn publish the data within 24 hours. Water quality can change dramatically after heavy rains but with this new effort we will know very quickly if our water is safe. And so far so good!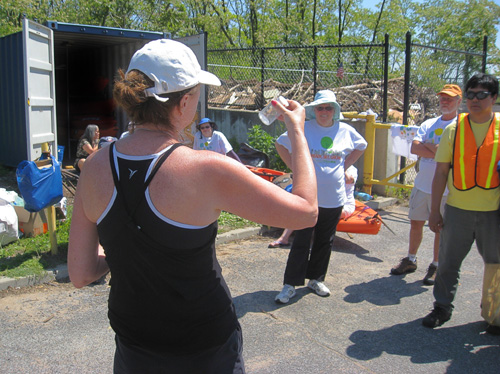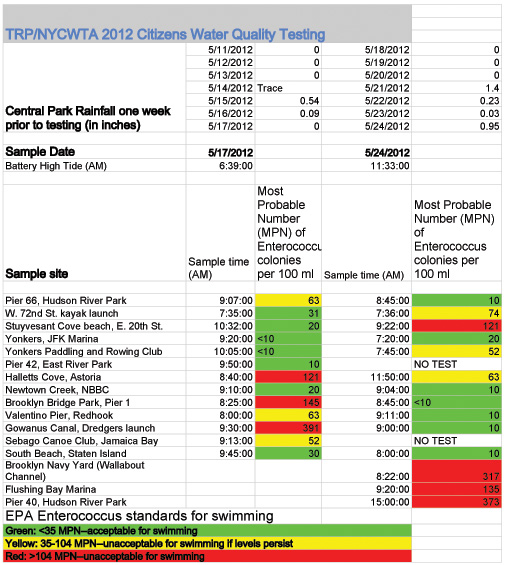 Posted on 8 April 2012 | Comments Off on GEARING UP!
Greetings Paddlers, we are getting ready for our 2012 season, looking forward to some warm sunny days on the beach. Special thanks goes out to volunteer Paul who designed and constructed the Pesce Roller System, this will make moving all of our gear easier! Thank you Paul!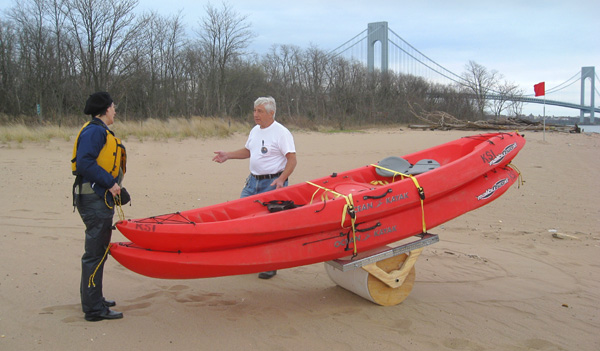 While we had the boats out we decided to check on our oysters. They appear happy and thriving in our local waters.
Posted on 26 February 2012 | Comments Off on Our 2012 Calendar is Online!
Greetings paddlers! We are excited to present our event calendar for 2012 – you can see it now on our "Calendar" page. Opening day is May 28 Monday – Memorial Day – 3:30 to 6:30 pm.
We hope for a full season this year, free of any beach closures. Hope to see you this season at the beach!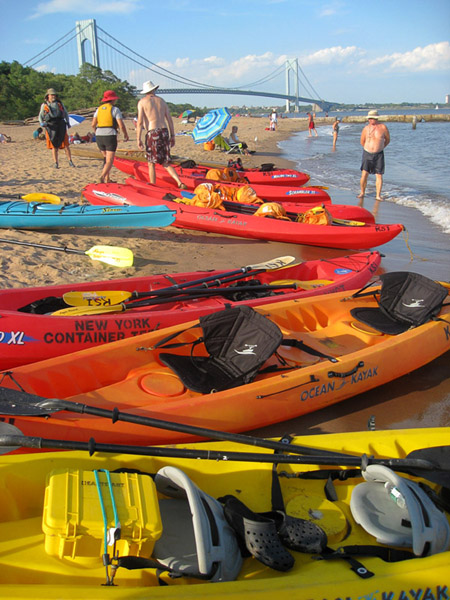 Posted on 21 December 2011 | Comments Off on Here's To 2012 and More Fun Paddling!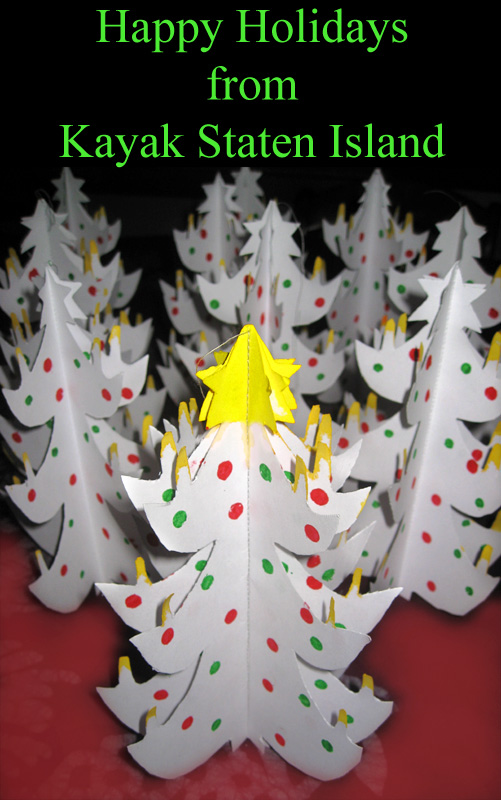 Posted on 14 October 2011 | Comments Off on Kayak Staten Island in the News
KSI Fundraiser: October 8th 2011 – Alice Austen House Museum – A beautiful, warm, sunny, Saturday afternoon was the backdrop for our first fundraiser.  A good time was had by all, live music and our great, little, wooden-paddler-kayak race! Read about it HERE!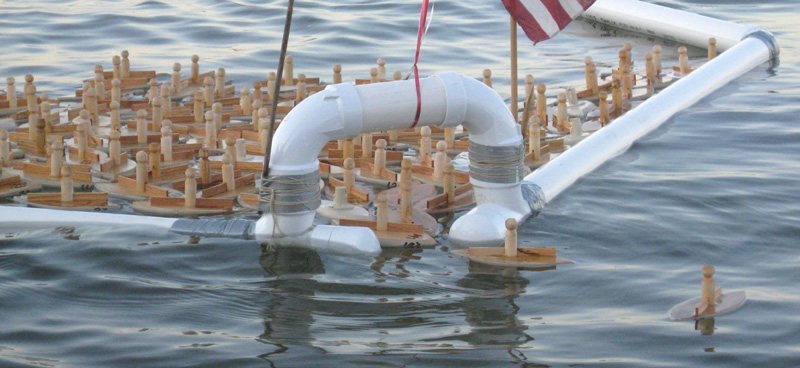 Click on the above photo to see more images.
KSI at Freshkills Park – "Sneak Peak", Oct 2nd 2011 – More good weather  for Kayak Staten Islanders to offer a kayaking program during Freshkills Park's,  second annual open day.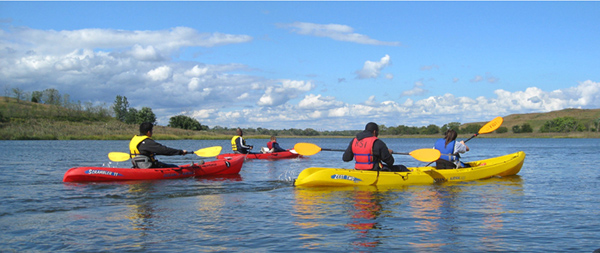 Click on the above photo to see more images.
OYSTER GARDENS: Our oysters have continued to grow since their "planting"  in late June.    We will need to conduct one more  measurement in early November before winter sets in so if you are interested in joining us please email kayakstatenisland@gmail.com.   Read about the Oyster Garden Program  HERE!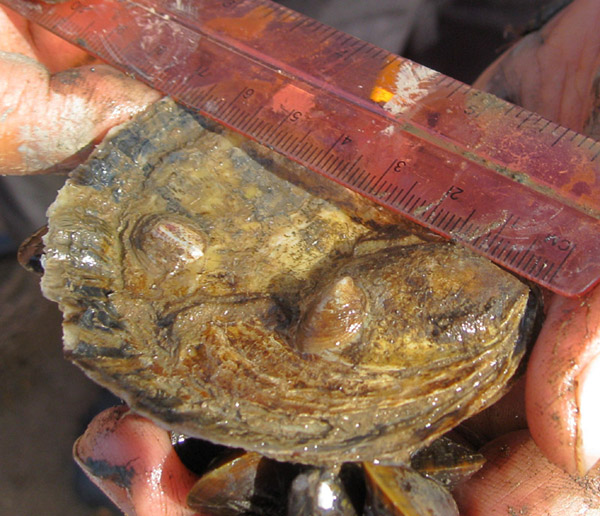 Click on the above photo to see more images.
Posted on 30 September 2011 | Comments Off on The Wooden Paddlers Are Getting Ready!
The race begins October 8 at 3:00pm on the lawn of Alice Austen House Museum.
Buy a chance to win:   Cash 1st prize; gift certificates from Adobe Blues restaurant, Spa Finder, Dick's Sporting Goods, Seaside restaurant, Campmor to name a few. We will have lots of fun cheering our paddlers on to live music and dancing to make the earth shake and the paddlers roll!!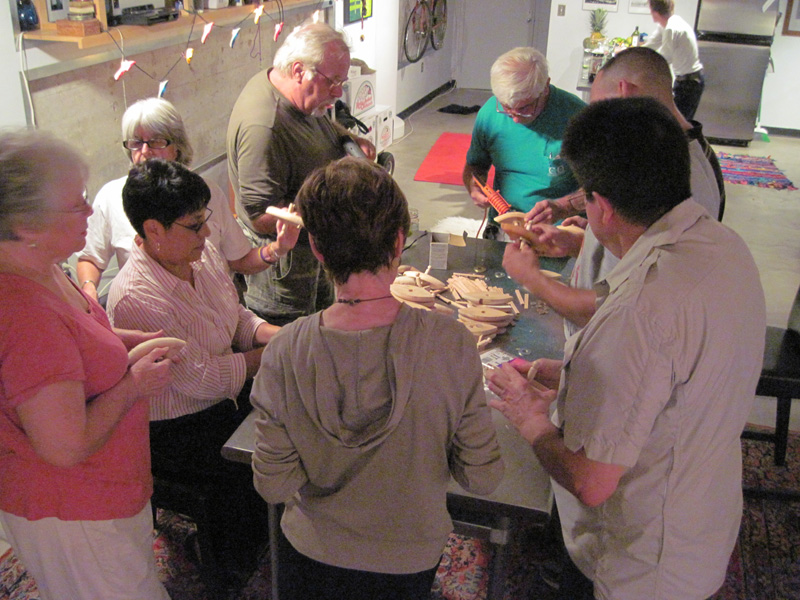 Our team of volunteers are busy assembling the wooden kayak racers!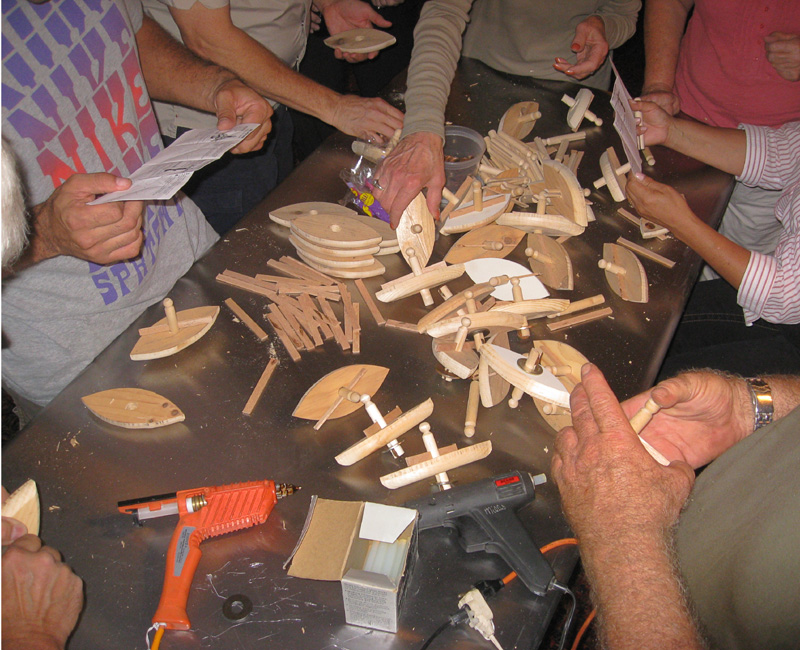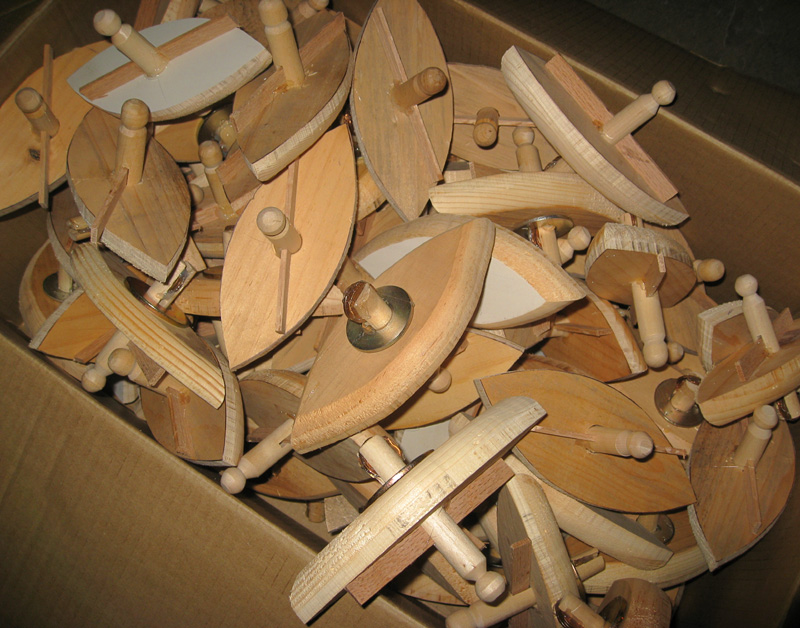 Posted on 15 September 2011 | Comments Off on Come to our October 8th Fundraiser
We are having a fundraiser, Saturday October 8th, on the front lawn of Alice Austen House.  Buy a chance on the Great Little Wooden Paddler Kayak Race, they cost only $10 each, and take a chance at winning a prize.
Our Kayak Staten Island volunteers are hard at work in the shop producing the kayak racers.  These hand-made wonders are being produced under the watchful eye of our master craftsman kayak builder.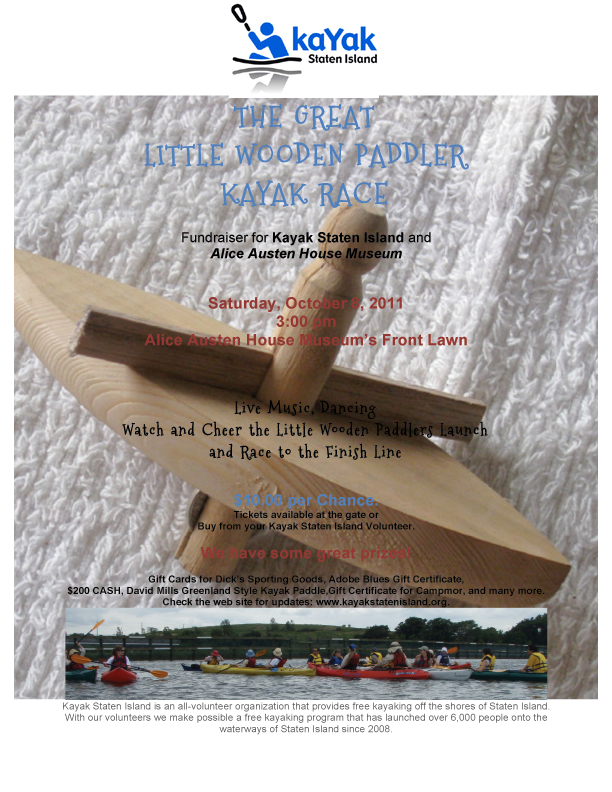 If you're buying a chance by check, please make it out to our fiscal sponsor "Gowanus Dredgers Canoe Club", and add KAYAK STATEN ISLAND in the notes section. Click HERE for directions to the Alice Austen House.

Posted on 7 September 2011 | Comments Off on Sequine Mansion
Seguine Mansion, a grand 19th century home on Staten Island, a kayaking destination, is hosting a fundraiser this September 24.
Click on photo below for details.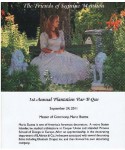 Posted on 29 August 2011 | Comments Off on Beaches Closed, Time To Reflect, Stolen Kayak
BEACHES CLOSED: Once again we regret to inform all that Staten Island beaches are closed.  NYC Parks is making excellent progress in draining the pond that formed in parking lot #1 as a result of Irene.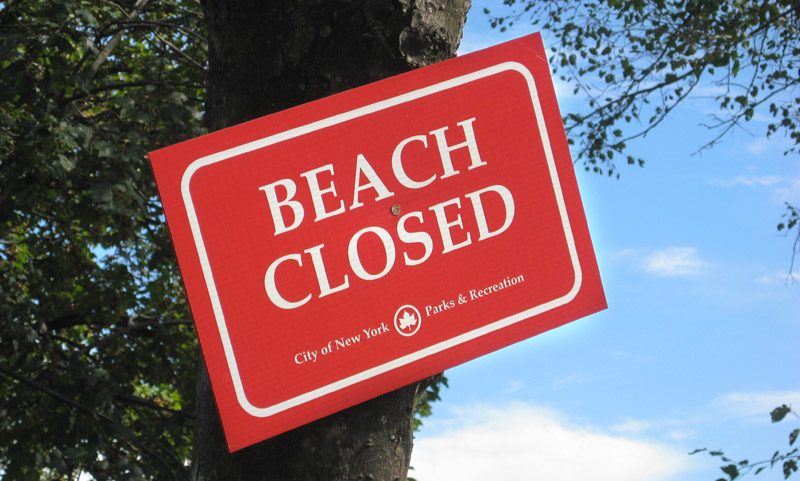 You can check on the beach status HERE, at the NYC Beach Status website:
http://www.nyc.gov/html/doh/html/beach/beach-si.shtml
We hope beaches will be open for our next scheduled free kayaking event, Saturday September 10th, Noon – 3:00pm, at our usual South Beach location.
TIME TO REFLECT: We'd like to take this time to remind paddlers to take a step back and evaluate the current weather conditions, and your own paddling skill levels/abilities before venturing out into open waters.
As was reported in SILIVE August 27th, two kayakers capsized just south of Great Kills harbor.  NYC Police Harbor Patrol unit rescued them and returned them to Great Kills where they were promptly "…issued summonses for violating a local emergency order".
We urge all paddlers who enjoy our local waters to first: Know Your Limitations; how far can you paddle, and what speed can you maintain, Always wear your PFD, Know your waters you are planning on paddling in, Let someone else know where you plan to go, and when  you plan to return, evaluate your self-rescue skills, check the local weather conditions (wind, tides, currents), and be sure to have fun!
STOLEN KAYAK: One of our volunteers has reported a stolen kayak, taken from a Rosebank shop early AM on August 29th. This is a hand-built "skin-on-frame" "Yost-like"  Sea Tour 18EXP, sewn with sand beige 12oz cordura nylon, with an ash & cedar coaming. The finished size is 18ft X 24″ beam, 3/8″ pine seat boards,  and black nylon painter lines, with no other deck rigging.
If you see, or hear of anyone in possession of this boat, please let us know via email.
Kacey